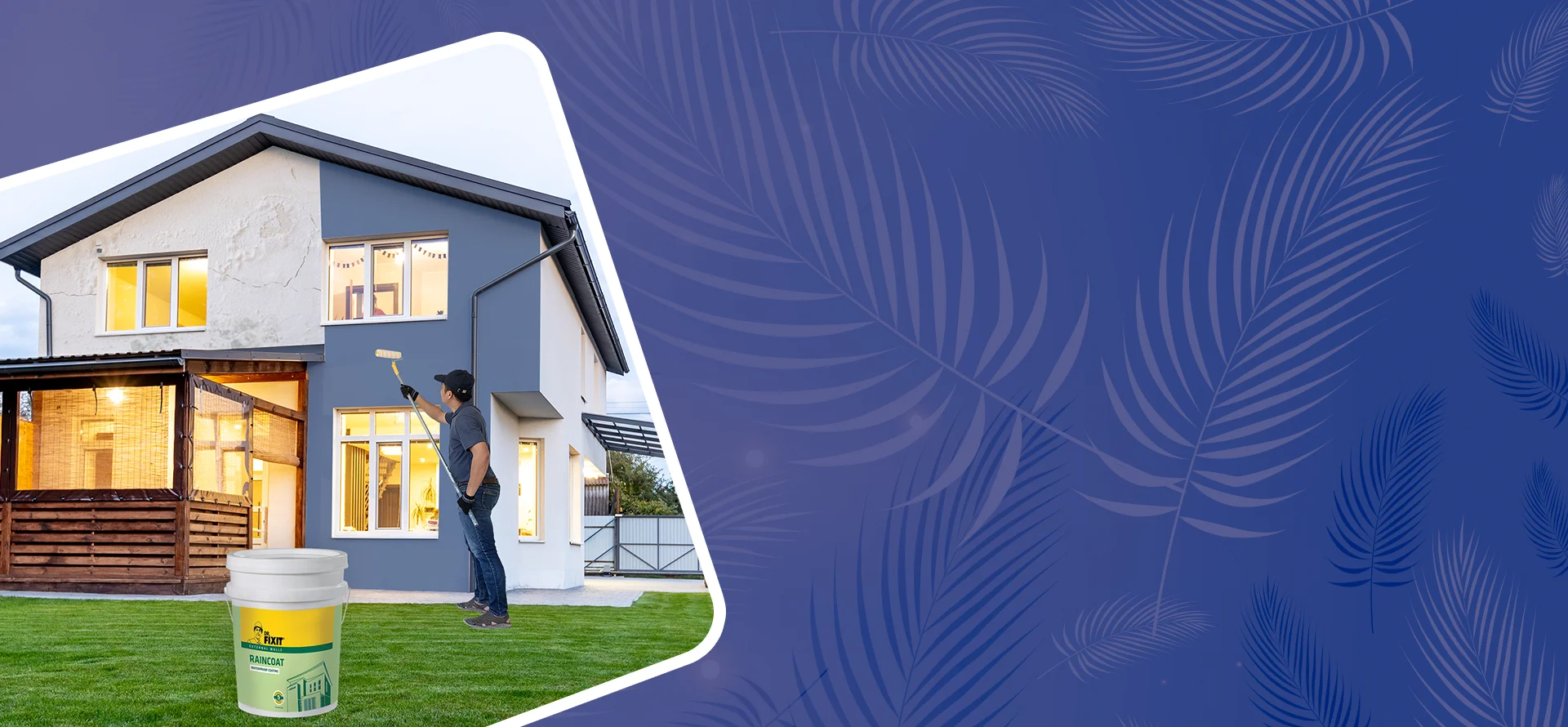 Exterior Waterproofing Products Prices
Sign up for a free site visit using TrueCaller
WATERPROOFING AREAS
Top products
Checkout Exterior Waterproofing Prices For Your House
Having a sturdy roof over your head is a blessing that many people around the world take for granted. Your roof protects you and your loved ones from the outside world, the harsh weather conditions and also gives you a safe sanctuary that you can call home. People spend a major part of their lives working hard towards this singular goal of building or buying their own house and once that dream comes true, they most often end up forgetting about one of the most important aspects of home building which is waterproofing their exteriors.
External wall waterproofing and exterior basement waterproofing for your home is the thing that will solidify and protect your walls and increase the longevity of your house. Waterproofing keeps your house protected from any kind of seepage and leakage and the problems caused by it such as mold and mildew. With tools such as the paint cost calculator or the waterproofing calculator, you can easily determine the exterior waterproofing price estimate and get a quote by a high quality service provider that will take care of all your waterproofing needs and requirements.
Best Exterior Wall Waterproofing
Exterior wall waterproofing needs to be done carefully while taking all important aspects of it into consideration. Different techniques need to be used keeping in mind the requirements as exterior waterproofing and interior waterproofing are very different. For example, kitchen waterproofing is done differently than exterior waterproofing as one space is more exposed than the other and has different requirements.
Gauging the space and determining which techniques will be needed is the first step towards waterproofing your house. The exterior walls of the house face the most harsh weather conditions be it rain or sun. When exterior waterproofing is done well it protects the interior of the house as well from any seepage. There are different techniques of waterproofing a house, some of which are traditional and some are modern. With brands offering top notch products like Dr. Fixit exterior wall waterproofing products and asian paints exterior wall waterproofing products, the process of waterproofing has become simpler and far more affordable than before. Get the help of a professional to take care of all your waterproofing needs as they will offer you a host of services all in one place.
Latest Exterior Waterproofing Products
Feviseal
Feviseal silicone sealant is a weatherproof pro construction grade sealant which cures to form a flexible yet durable silicone rubber. This rubber is resistant to UV rays, ozone, rain, hail and harsh weather conditions. The feviseal silicone sealant price is highly cost effective and it is also a multipurpose product. It helps to prevent cracks in walls, reduces permeability and also protects steel against corrosion. Check out the price of pidilite fevi seal silicone sealant 280 ml :
| | |
| --- | --- |
| Dr. Fixit Feviseal 280 ml | Rs. 230/- |
Dr. Fixit Raincoat Select
Dr. Fixit Raincoat Select is a waterproofing and protective coating for the exteriors of buildings and other structures. It claims to protect the walls and outer structures for upto 7 years and is known for its flexibility and how breathable the product is. It is water resistant and is composed of high quality acrylic emulsion polymers.
| | |
| --- | --- |
| Dr. Fixit Raincoat Select 1ltr | Rs. 635/- |
| Dr. Fixit Raincoat Select 4 ltr | Rs. 2,250/- |
| Dr. Fixit Raincoat Select 10 ltr | Rs. 5,570/- |
| Dr. Fixit Raincoat Select price 20 ltr | Rs. 10,800/- |
Raincoat Classic
Dr. Fixit raincoat classic is a reliable solution that is well-liked for both waterproofing and preventing heat damage to exteriors, especially roofs. It is a durable protective seal that can be used on all types of roofs. It lowers the surface's temperature by nearly 10 degrees, is UV resistant and does not require any dilution.
| | |
| --- | --- |
| | Rs. 520/- |
| Dr. Fixit Raincoat Classic 4 ltr | Rs. 1875/- |
| Dr. Fixit Raincoat Classic 10 ltr | Rs. 4450/- |
| Dr. Fixit Raincoat Classic 20 ltr | Rs. 8625/- |
Polymer Modified Mortar
Dr. Fixit Polymer Modified Mortar liquid is compatible with concrete and mortar mixes. It prevents water seepage and reduces the development of cracks. It is highly durable and will protect the exterior of your house in every weather condition. Check out the polymer modified mortar price:
| | |
| --- | --- |
| Dr. Fixit Polymer Modified Mortar | Rs. 1000/- |
Benefits Of Exterior Waterproofing
The benefits of exterior waterproofing are many and it is a process that should never be skipped or skimped on. The importance of exterior wall waterproofing for your home, particularly in the long run, is immense. It can at the time seem like a heavy expenditure but it should be looked at as a long term investment as it will save you a lot of money by preventing damages which cause petty expenses. The exterior walls are the area of the home which is exposed to severe and continuously changing weather conditions. These harsh conditions have the capacity to cause extreme structural damages over time such as cracks and leaks and seepage and subsequent health problems. Here are some of the common advantages of getting your house waterproofed.
It protects the home from rain, sun, and other harsh weather, preventing structural damage.
By extending the outside of the home's lifetime and reducing the risk of seepage or leaks, it also safeguards the interiors.
Long-term, waterproofing aids in preserving the house's aesthetic appeal.
At the time of selling, a home that has been waterproofed will get you a better price.
Steps To Be Followed While Doing Exterior Waterproofing
While waterproofing your house, you must enlist the help of a professional but if you want to take this up as a project by yourself, there are certain things you should keep in mind. These days exterior waterproofing procedures are many and these are fairly simple to do even when you're looking to cover a patch yourself. Here are some simple exterior waterproofing steps that must be followed:
Before you begin, check your walls for any cracks or faults and ensure there is no other structural damage.
Clean your gutters and make sure no amount of water is retained in them.
Do your due diligence and select all the right equipment and waterproofing products that fit your needs.
Utilize plaster waterproofing additives as it makes walls more solid and will protect them from any dampness and seepage.
Before you start, you must prepare your walls which means determining the flaws and fixing them, for example filling in cracks and mending uneven areas. Remove the dust by cleaning the wall with water and let it dry completely before you begin.
Once this is done, you can go ahead and apply the waterproofer. Add a second coat if necessary.
Once this has dried, check to make sure that the wall has actually become waterproof.
Exterior Waterproofing Solutions & Services
These days, many companies provide waterproofing services. Since the exterior of the house such as the walls and roofs are constantly exposed to climatic conditions, it is extremely important that you get the help of a professional and waterproof them. Waterproofing ensures that your house remains protected and increases the lifespan of the house, from the inside out. With the help of the internet, you can find a good quality company that provides exterior waterproofing solutions and exterior waterproofing services, while also accommodating your budget.
The internet has made it super easy to calculate how much you might have to spend on waterproofing your house. Simply use the aapkapainter waterproofing price calculator to receive an accurate estimate for your waterproofing requirements. The price calculator takes in consideration all the factors such as age of the building, area of the exterior, build quality and material etc before giving you your estimate.
Why To Choose Aapka Painter For Exterior Waterproofing Painting Service
Aapka Painter has been offering house painting and waterproofing services for many years and is among the best waterproofing and painting professionals in India. Aapka Painter works with trained professionals and skilled specialists that can meet your demands with the goal of empowering clients to choose these services on their own without depending on a third party. Excellent services are offered by Aapka Painter, including waterproofing, rapid customer service, site cleanliness, adherence to all safety protocols and supervised painting of all rooms with waterproofing.
The array of painting services provided by Aapka Painter is unmatched, and they also provide waterproofing calculators, premium paint materials, all varieties of interior painting, and shade cards. As if these reasons weren't enough, aapka painters are also very cost-effective and accessible to everyone. Additionally, Aapka Painter provides highly customized services and a free in-person consultation. You can view some of Aapka Painter's most recent wall painting designs and schedule your free consultation right now.
FAQs
What is the best waterproofing for exterior walls?
Dr. Fixit Raincoat is a decorative exterior coating that is waterproof and creates a layer between 110 and 120 microns thick. It effortlessly produces the waterproofing barrier and deflects rainwater. This is one of the best and most important products for waterproofing external walls.
How do you waterproof exterior walls?
Ideally, waterproofing should be done while the house is under construction. You can use high quality waterproofing liquids and compounds with cement right when the house is being made to get desired results. Other than this, you can also waterproof your walls before painting them. This will prevent any type of leakage.