Home /
Raincoat Waterproof Coating
Dr Fixit Raincoat Waterproof Coating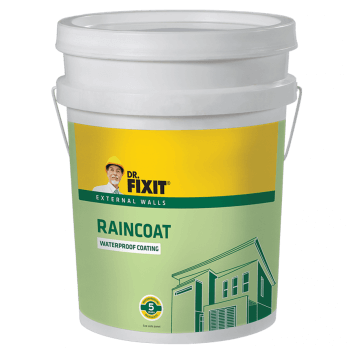 | 1ltr | 635 |
| --- | --- |
| 4ltr | 2250 |
| 10ltr | 5570 |
| 20ltr | 10800 |
Product details
Packaging Size:
1ltrs, 4ltrs, 10ltrs, 20ltrs,
Brand:
Dr Fixit
Usage surfaces:
Exteriors
Dr Fixit Raincoat Waterproof Coating Pack Size: 1ltr, 4ltr, 10ltr, 20ltr,
Step 1: Crack Filling: Clean the receiving plastered surface of all loose particles, dirt, remove all algae & fungus by pressure jet wash. Inspect for cracks if any, and clean and moisten them. Providing and applying ready to use acrylic polymeric non-shrink Dr. Fixit Crack X Paste for cracks up to 5 mm and larger cracks up to 10 mm should be filled with Dr. Fixit Crack –X Shrinkfree . Step2: External Wall Waterproof Decorative Coating - Providing & Applying one coats of Dr. Fixit Raincoat Waterproof Coat without any dilution Maintain the spreading rate of 3.5 -4.0 sq mtr per litre / coat application to achieve about 120-150 microns DFT.
Features & Benefits
Corrosion resistant - Makes concrete more cohesive, hence protects steel better against corrosion.

Compatibility – Being a liquid, easily dispersible & compatible with concrete/mortar mixes.

Permeability – It reduces the permeability of water into concrete.

Strength – The setting time and compressive strength of the concrete remains within the specification limits.

Shrinkage – Reduces shrinkage crack development in plaster & concrete.

Workability – Improves workability of freshly mixed cement concrete.

Durability – Increases durability by improving waterproofing of concrete.
Product Process
Step 1
Surface Preparation Remove dust, laitance etc. by wire brush and broom. Clean the surface with water and make Surface Saturated Dry (SSD) condition. Check the surface moisture content and temperature before application of the coating.
Step 2
Dressing at Junctions Apply the first coat of Dr. Fixit material on the angle fillet. Place and soak 150 mm width of 45-micron open woven glass fiber mesh as reinforcement on the wet first coat to arrest cracking.
Step 3
Coating Application Apply