Home /
App Modified Membrane For Podium Waterproofing (boq)
Dr Fixit APP Modified Membrane for Podium Waterproofing (BOQ)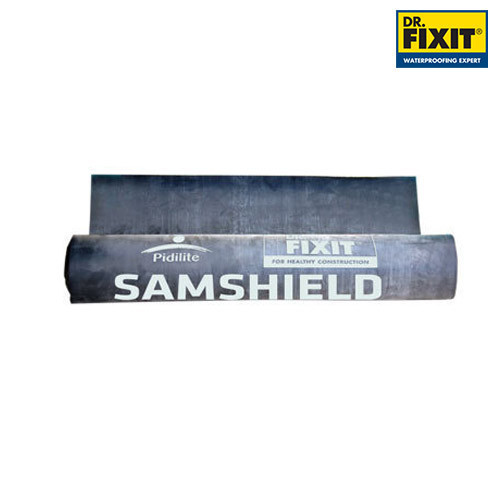 | 10 mtr | 2980 |
| --- | --- |
Product details
Packaging Size:
10 mtrs,
Brand:
Dr Fixit
Usage surfaces:
Podium Waterproofing
Dr Fixit APP Modified Membrane for Podium Waterproofing (BOQ) Pack Size: 10 mtr,
Surface Prepration 1 The surface to be waterproofed must be smooth, clean and should be free of depressions and and loose aggregate. Cracked concrete should be repaired and any depressions must be filled withpolymer-modified mortar in the ratio of CM (1: 3) by adding Dr.Fixit Pidicrete URP 10 % by weight of cement. Primer The cleaned concrete surface must be coated with Dr. Fixit Torchshield primer (bitumen sealer cum primer) which is compatible with the membrane. The primer must be spread evenly and allowed to dry completely. Only the area to be waterproofed on a given day should be coated with primer. Application The Providing and applying Dr. Fixit Torchshield P4160 of M/s Pidilite, a 4mm thick APP polymer modified bituminous waterproofing membrane with polyester reinforcement having high tensile strength, tear & puncture resistance . The rolls are laid so that the next overlaps the first by at least 10 cm along the side-lap and End laps should be minimum 15 cm. etc complete as per product specifications. Treat the areas around the insert pipes and the wall-to-floor junctions with polymer modified grouts and apply waterproof coating around with a glass fibre mesh of 2.5 mm x 2.5 mm weighing 50 gsm between the first and second coats. Place them when the first coat is still wet.
Features & Benefits
Corrosion resistant - Makes concrete more cohesive, hence protects steel better against corrosion.

Compatibility – Being a liquid, easily dispersible & compatible with concrete/mortar mixes.

Permeability – It reduces the permeability of water into concrete.

Strength – The setting time and compressive strength of the concrete remains within the specification limits.

Shrinkage – Reduces shrinkage crack development in plaster & concrete.

Workability – Improves workability of freshly mixed cement concrete.

Durability – Increases durability by improving waterproofing of concrete.
Product Process
Step 1
Surface Preparation Remove dust, laitance etc. by wire brush and broom. Clean the surface with water and make Surface Saturated Dry (SSD) condition. Check the surface moisture content and temperature before application of the coating.
Step 2
Dressing at Junctions Apply the first coat of Dr. Fixit material on the angle fillet. Place and soak 150 mm width of 45-micron open woven glass fiber mesh as reinforcement on the wet first coat to arrest cracking.
Step 3
Coating Application Apply